We are a group of students in Berlin, Germany, with an interest in Optical Sciences and Engineering. Founded in February 2008, this group belongs to a worldwide network of student chapters, which are supported by OSA, SPIE and EPS.
The objectives of this chapter are:
– to promote awareness of Optical Science and Optical Engineering among the academic and local communities.
– to serve as means of communication and interaction between students, faculty, and administration.
– to establish interaction between students and local sections and national headquarters of Optica, SPIE and EPS.
– to broaden the students' insights on post-graduate opportunities.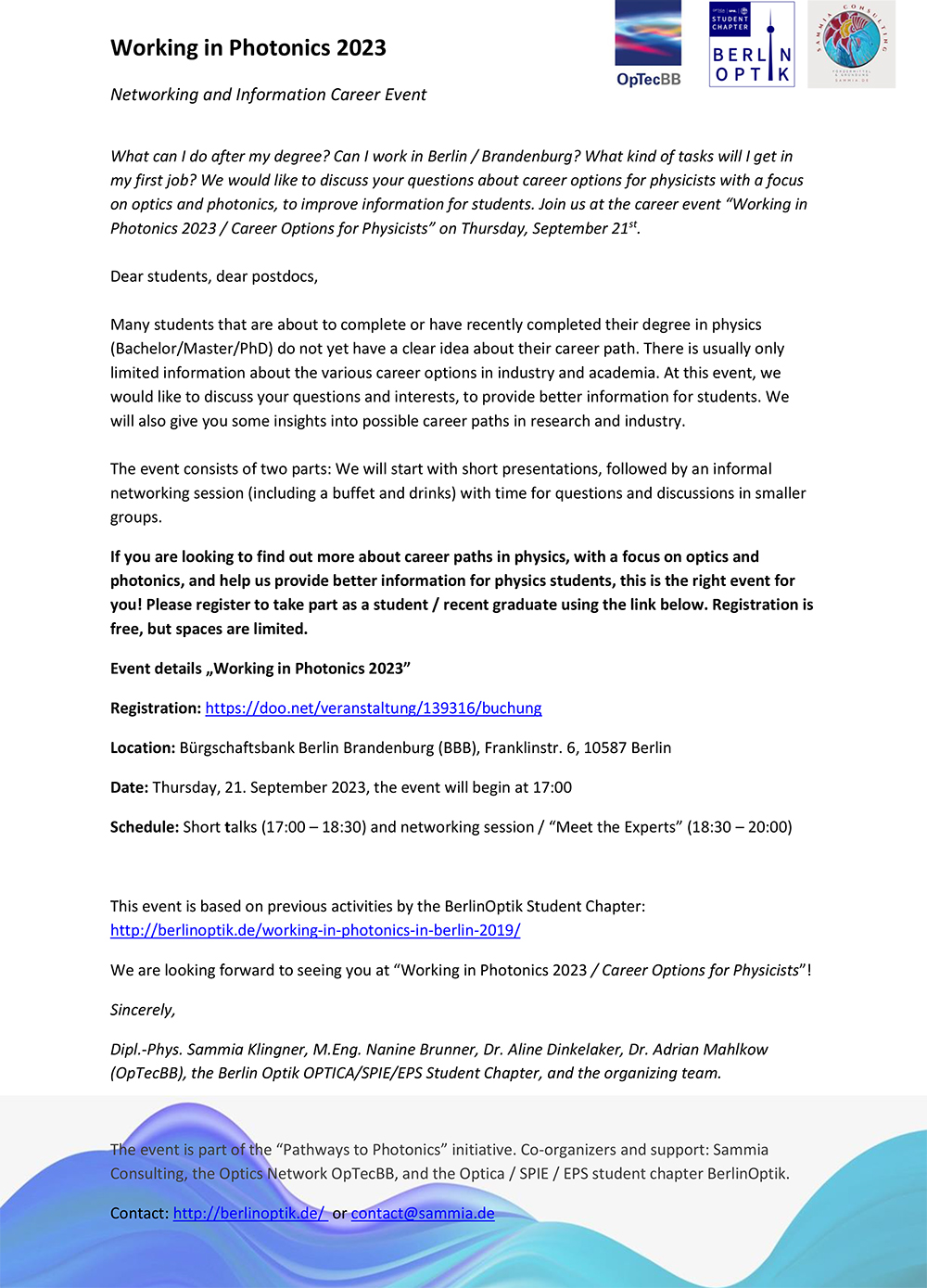 Registration: https://doo.net/veranstaltung/19316/buchung
About Optica
Uniting more than 70,000 professionals from 134 countries, Optica (formerly OSA) brings together the global Optics community through its programs and initiatives. Since 1916 Optica has worked to advance the common interests of the field, providing educational resources to the scientists, engineers and business leaders who work in the field by promoting the science of light and the advanced technologies made possible by Optics and Photonics. Optica publications, events, technical groups and programs foster optics knowledge and scientific collaboration among all those with an interest in Optics and Photonics. For more information, visit www.optica.org.

About SPIE
SPIE is the international society for Optics and Photonics founded in 1955 to advance light-based technologies. Serving more than 188,000 constituents from 138 countries, the Society advances emerging technologies through interdisciplinary information exchange, continuing education, publications, patent precedent, and career and professional growth. SPIE annually organizes and sponsors approximately 25 major technical forums, exhibitions, and education programs in North America, Europe, Asia, and the South Pacific. For more information, visit www.spie.org.

About EPS
The European Physical Society (EPS) is a not for profit association whose members include 42 National Physical Societies in Europe, individuals from all fields of physics, and European research institutions. As a learned society, the EPS engages in activities that strengthen ties among the physicists in Europe. As a federation of National Physical Societies, the EPS studies issues of concern to all European countries relating to physics research, science policy and education. For more information, visit www.eps.org.